The Nashville Predators are offering a special deal for Texas A&M Alumni, friends and family.  From now until February 8th, you can purchase Club Level Tickets for $44 (reg. $59) to the February 23rd game against Colorado Avalanche.
In addition to the reduced ticket price, the first 40 tickets purchased will also receive $10 SMASHCASH courtesy of the Middle Tennessee A&M Club.
To purchase your tickets, visit https://www.nashvillepredators.com/TAMU using promo code "TAMU". Tickets will be delivered via TicketFast
For more details, check out the flyer below from the Predators and remember… this is a limited time offer. Get your tickets by February 8.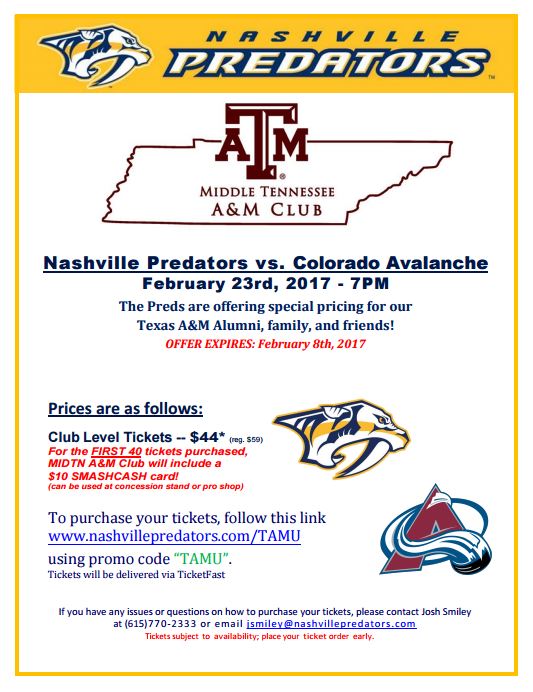 Our Aggie Basketball team will be facing Vanderbilt in Nashville on February 16th at 6:00 pm. We have a group ticket promo code to get reduced price tickets for the game (Normally $23 tickets are now $16.)  You have until February 14th to get this deal… details below.
Promo Code: AGGIES
https://oss.ticketmaster.com/aps/vanderbilt/EN/link/promotion/home/a4557330cc5f936eeea147f1ea4271466f03199d?camefrom=UNGERE