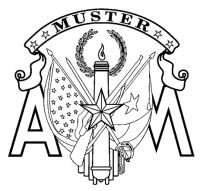 April 21, 2017  ♦  6:00 pm
Century-old roots provide the basis for Muster as Aggies know it today. It has changed, yet the Spirit in which it was established remains the same. Since the founding of Texas A&M, every Aggie has lived and become a part of the Aggie Spirit. What we feel today is not just the camaraderie of fellow Aggies, it is the Spirit of hundreds of thousands of Aggies who have gone before us, and who will come after us. Muster is how that Spirit is remembered and celebrated, and it will always continue to unite Texas A&M and the Aggie family. A&M may change, but the Spirit never will…
Meal will be around 6:30 pm. Program to begin after.
Speaker: Dallas Shipp '03
Meal: Freebirds World Burrito
(Will be on hand rolling the burritos in person!)
First Baptist Nashville Fellowship Hall
108 Seventh Avenue South
Nashville, TN 37203
Tickets :
$25 in advance/$10 kids
$35 at the door/$10 kids
---
Dues paying members get a $10 discount on their ticket purchase!
Once we receive your dues payment, we will send you a discount code to use on your EventBrite ticket purchase.
(Please be patient as we will get these codes out as quickly as we can!)
You can also mail us a check for your dues! Email Us for the address to send your payment.
Parking
It looks like we have lucked out and won't be battling with a Predators game this year. (Current schedule shows April 20th & 22nd for games.) However there are a few other events also happening at the church that night.
There will be parking spaces available in First Baptist Church's Lot D (gated lot) and additional spaces in Lot C (the main lot at 7th & Demonbreun).  There is an intercom at the gate and there will be parking attendants from Premier Parking in the main lot.  Tell them you are coming to Aggie Muster at the church. Please note, though, that the earlier you arrive, the better chance you have to snag those parking spaces.
The Fellowship Hall is on the ground floor on the north end of the building.  Enter at the south entrance.  Here is a map for parking and our Muster location.
​There will also be signs posted to help direct you to where you are going in the hall.
---
Email Denise if you have any questions!