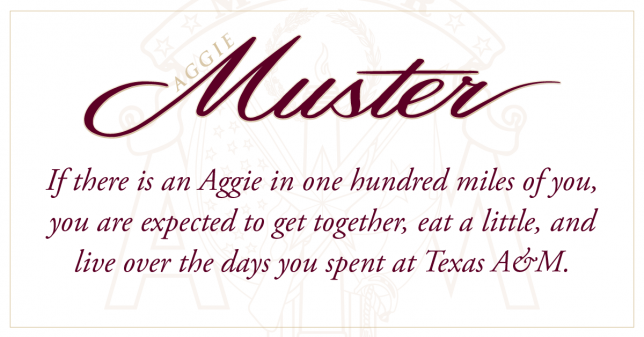 The Middle Tennessee A&M Club will gather on April 21, 2022 for Aggie Muster.
Ben Clark '01 has graciously offered to host our event at his home in his outdoor pavilion once again this year. We will have a barbecue meal, program and roll call.
Ben Clark '01 Residence
4701 Hessey Rd
Mount Juliet, TN 37122
View Map
We will begin gathering at 6:00 pm.
6:00 • Gather & check-in
6:30 • War Hymn & Dinner Start
7:00 • Program
MENU
Brisket & Smoked Sausage
Baked Beans
Mac & Cheese
Green Beans
Cobbler
Assorted Beverages
Ticket options:
Muster Only Individual: $25
Muster Only Couple (this includes two tickets): $45
Muster + Dues Individual: $55
Muster + Dues Couple (this includes two tickets): $105
Children under 12: $12
(Dues are $35 Individual, $70 Couple… and dues payment gets $5 off Muster Tickets.)
Ticket Sales will cut off April 10th to ensure we have time to order the proper amount of food.